Hi Friends,
As I will be at the Western Heritage Art Show in Great Falls, Montana for awhile and miss the next blog post time, I wanted to share something with you that I found completely fascinating.
This observation and photo were sent to me by a friend in China:
Check out the attached picture. Notice these two guys on the tallest part of the building way up towards the top of the split towers to the left.
No safety harness. A single strand of cotton rope (not a stronger hemp or synthetic). Their "seats" are hunks of old wood just notched on the ends for the rope. There is a rope-brake sort of thing at the top, but once they start, they "hand-over-hand" and paint their way up from the bottom, get to the top, release the brake, and "hand-over-hand" back to the bottom without touching the wall.
Oh......and for painting equipment they have a roller and bucket of paint.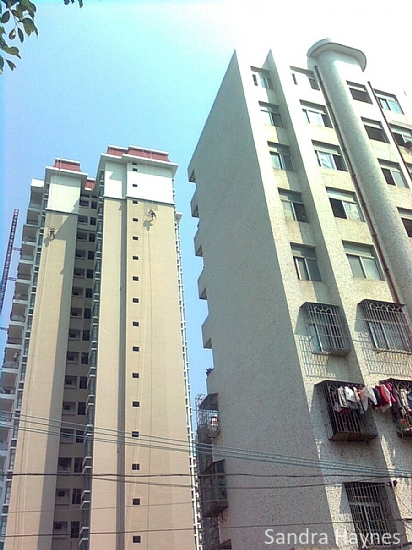 Just stop and think about the scope of this job.....not to mention the threat of imminent death.
Makes going to the easel to paint every day seem like a bubble bath.
Thank you for stopping by.......
Sandra
Topics:
Life
---
« THE BIG PICTURE | Main | WHAT? ME WORRY? »
---
---