With excitement, I'm starting a new commission piece!
This one is of the Red Fox and will involve 3 portraits along with large eyes across the top of the piece. It's a similar format that was used in my piece titled "Bobcat Study".
Scratchboard Etching is a process not very well known, but the results, especially for wildlife are stunning, so I thought it would be entertaining for you if I posted progress photos with some explanations of how it's done and a little bit about my subjects.
This piece is 18x24" and the cutting of the scratchboard is an alarming event all by itself. I use Ampersand's Claybord Scratchboards and sadly I have not been able to find them in this size. So I use my scroll saw...every other type of saw I have tried chips the board surface....and it takes strong nerves and a very steady hand to get that scroll saw to cut a straight line. Sort of like herding rabbits down the road with a stick.
Scratchboards are a product similar to thin masonite with a white kaolin clay layer on it, then a sprayed coating of black india ink. A sharp tool is used to scratch through the black layer into the white layer underneath. Color is added later....I use layers of watercolor.
This first photo shows the layout stage after choosing the poses I want and turning them into line drawings. With the large eyes at the top, the 3 portrait pieces must be sized and arranged carefully so as to not overpower the eyes, but not get lost either.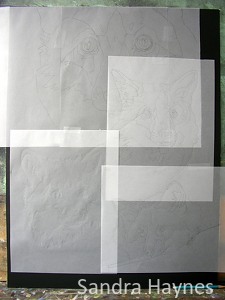 Step 1
This step is purposefully done in a very light pencil as it will have to be traced over with a darker pencil (so I can tell where I've been) with white transfer paper underneath. Working directly on the black surface damages it with erasing, so hence the transfer.
By now I can hardly wait to get scratching!
Step 2 will be coming up soon!
---
« Coat of Red | Main | Fox Commission....Step Two »
---
---